Assistant Coach Kayla Wolma: Improving the mental game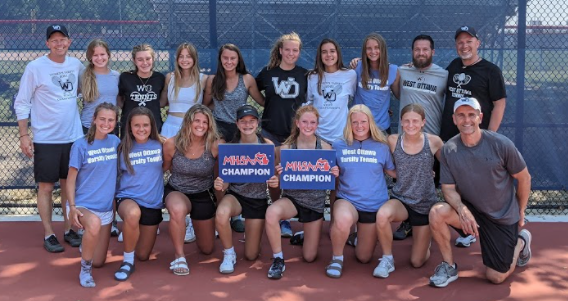 After a pep talk from Kayla Wolma, the assistant coach for the West Ottawa Girls Varsity Tennis Team, Adria Hamilton and Kelly Linart got in position on the court. Both girls were focused as they bounced on their toes in anticipation for the point to begin. Hamilton hits a killer serve, setting up Linart for an overhead at the net. Linart smashed the ball down at an angle, winning the point to tie up the match. Wolma's advice from the sidelines to stay focused, keep up the intensity, and maintain a positive attitude had paid off. Hamilton and Linart rushed together, tapping their rackets together in celebration. Hamilton yelled, "Let's go WO!" Each flight from first singles to fifth doubles echoed the phrase. Seconds later, the entire tennis establishment is filled with the powerful cheers of the West Ottawa Varsity Tennis team (WOVT).
The 2021 tennis season has been full of breaking records, taking home trophies, and celebrating many victories. But all of these victories could not have been possible without the new addition to the team.
Kayla Wolma, a freshman at Hope College, took on the role of West Ottawa Varsity Assistant Coach this spring. Wolma played on Hudsonville High School's varsity tennis team for four years. Now as a college student she is very involved at the Hope College Dewitt Tennis Center, where she voluntarily coaches elementary kids. She's also a Professional Tennis Management Program member, where she learns how to be a tennis coach.
Pete Schwallier, the head WOVT coach, is a big believer in incrementalism. Schwallier doesn't think it's any one thing that improves a player's tennis game, but rather lots of small gains in many areas that add up. This is exactly why Wolma's contribution has caused such a drastic improvement; Wolma is gradually improving the WOVT team's attitude, mental toughness, and energy.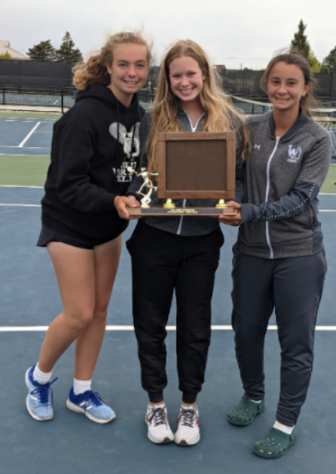 Attitude:
Wolma came into her first season of coaching with one main goal: teaching the players how to maintain a positive attitude.
This is the first time an assistant coach has ingrained having a positive attitude into the players. This aspect of a team is not something out of the ordinary. Many coaches wish for their players to have a positive attitude and show good sportsmanship. However, coaches lack the skill to actually implement attitude into the game. Telling players to do something once is not enough.
Wolma is different from a normal coach. She had a goal for the team and she went for it. Wolma continued to drill the idea into the players that "… having a good attitude can separate the good from the best."
The lessons about attitude were a game-changer for the players on WOVT, especially for the new members.
Fresh. Haven March believes that Woman's coaching has really impacted her game. "Coach Kayla has taught me so much about attitude on the courts and off the courts. That has really helped impact my tennis game and it has helped me to stay positive," March said.
Fresh. Megan Blake had a similar experience with Wolma's lessons about attitude. "She has taught me to live in the moment, and I use what she has taught me in every match," Blake said.
The upperclassmen also experienced a change in mindset from Wolma's lessons.
"Kayla has helped bring the team together by doing a lesson on attitude. I feel as though it brought the team together as we all shared our vulnerabilities on and off the court. She facilitated a great experience that helped us all improve our tennis game mentally," Sr. Adria Hamilton said.
Jr. Grace Gaul expresses what she learned from Wolma during her matches. "Your attitude and mental state can allow you to win and that is what Kayla has taught me this season," Gaul said.
The lessons Wolma shared with the players also improved Schwallier's coaching. "I would implore my players to 'move their feet.' However, at some point along the line, I realized that saying that isn't enough. You have to teach your players how, where, and why to move them. Kayla has applied this idea to the mental side of tennis. She doesn't just preach having a good attitude, but rather she gives examples, models it, and we practice it. She's shown me places where it's well worth spending practice time developing not only the body, but the mind as well," Schwallier said. The difference between telling players what to do and getting them to actually take the next step is an area in which Wolma continues to excel.
For example, Wolma had met up with the 2nd doubles team when they were in a tough battle against Hudsonville. She told them to "increase the energy by having more verbal celebrations when you or your partner hits a good shot." Maddie Moored smashed a winning volley at the very next point, and she and her partner met up and celebrated by exclaiming, "Let's go!" With that first smash starting the game, they finished the first set by winning their last game without the other team scoring.
Mental Toughness:
Another strong skill of Wolma's is demonstrating mental toughness. Tennis is very much a mental sport. Players find themselves repeatedly breaking down, especially during long and brutal matches in 96-degree weather.
Jr. Kelly Linart, a 1st doubles player, shares how Wolma has guided her through a successful season. "This tennis season Kayla has impacted my ability to overcome mental obstacles. For example, she has helped me when I am nervous and/or lacking confidence on the tennis court to overcome and continue playing my best," Linart said.
Soph. Chloe Duckworth, the 3rd singles player for WOVT, has fought through many matches with the help of Wolma.
"Kayla has taught me so much about the mental side of tennis and how to make my game better in that aspect. I feel like I can stay mentally strong and positive through tough matches and that has helped my game a lot," Duckworth said.
Many of the players were introduced to the idea of mental toughness for the first time by Wolma. "Kayla has taught me to really focus on my mental state while playing, and that is something that I have never really thought about when I play," Gaul said.
Wolma has brought new traits to the team that has strengthened the mental toughness of the players. The WOVT is more mentally strong than ever because of Wolma's lessons.
Energy:
What separates two opposing teams on a tennis court is the amount of energy the players maintain. Once one team burns out, the other team that stays strong is likely to win.
Sr. Kennedy Dumas, a singles player, shared about her first experiences with Wolma's energy. "When I started playing with Kayla, she was still on the team at Hudsonville. My first match against her was when she first taught me about energy. To fight for every point even if you're down five games. I apply these lessons in every match I play. To win and win big, you have to go for every shot. This is especially important in big matches," Dumas said.
Jr. Maddie Moored, a doubles player, mentioned how she began her season with an energetic mindset. "At the beginning of the season, she took the time to meet with each of us players and give us our word." Each player received a word given by Wolma that had something to do with everyone's goals for the season. "Mine was 'believe'. Where the mind goes, the body follows, so by believing in myself and my tennis abilities, I create confidence and energy," Moored said.
Moored now applies her word to her gameplay every day, "I learned to let the little things go and see each point as a new one. With this attitude, I find myself having more energy on the court and being more focused and excited to play."
Wolma has impacted the team for the better, and the varsity tennis girls will always relate to her lessons during matchplay to encourage them to keep moving forward with a positive attitude, strong mental toughness, and maintaining a constant burst of energy. Wolma is a great coach.
But Wolma's mental lessons cannot take the credit for what makes her such a valuable addition to the WOVT team. Schwallier saw something in her that was more than a great coach; Wolma is a great person with a kind heart. "To be a great coach, it's not enough to be talented. It has to be personal to you that the job you do is done the best it possibly can be done. For Kayla, anything she does becomes personal. I value this so much more than experience," Schwallier said.
It's Wolma's natural fun-loving attitude that drives the players to improve. " Kayla is overall an amazing person. She is so caring and supportive, she comes to practice every day with a positive attitude, and I can always count on her for pumping me up at the fence during a match," Gaul said.
Hamilton added, "You can tell she believes in us to get the work done during a match, and she always has good advice and encouraging words to say. She cares so much for us. She shows up to every practice and she goes above and beyond to make sure we all have a fun time while still improving."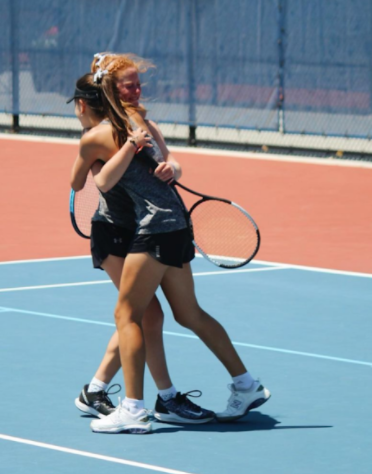 This season, the WOVT girls have broken many records throughout the season, which all started when the team beat Rockford 9-0 for the first time in over four decades. The 4th doubles team, Kamryn Dumas and Megan Blake, was undefeated 34-0 throughout their season and won the MHSAA State Championship for their flight. The WOVT girls won the OK Red Conference with a 70/72 score, the highest amount of points ever earned in that conference. Near the end of the season, the team won Regionals and placed 7th at the State Championship. The team couldn't have done it without Wolma.