Road to state championship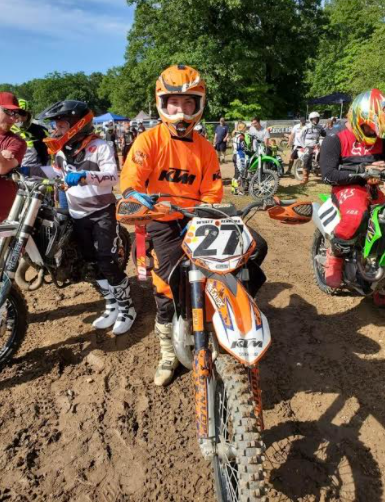 "It felt like winning the lottery. I had worked for years and years to become a state champion. I felt so happy and I felt overcome with joy once I found out that I won." On November 3, 2019, Sr. Wyatt Renkema shocked himself as he was called to the stage and became the state champion for the 2019-2020 motocross season at the award banquet in Grand Rapids. He pushed through some severe struggles but he kept his head up, quitters never know what they could be walking away from. "Motocross to me is an escape from reality. It's something I can lose myself in for hours at a time without a care in the world."
Towards the end of the 2017 season, Wyatt thought his season couldn't get any better, however, his world came crashing down. "During the 2017 season, I broke my collarbone while in an intense race to compete for the state championship. I gave that season my everything up until I broke my collarbone. I watched all of my hard work come crashing down." At that moment, Wyatt hit rock bottom and he wanted to quit. "I have had more injuries than I can recall. Some of my bigger injuries included several sprained ankles and wrists, extreme bruising all over my body, and multiple others."
Wyatt's father, Josh Renkema, thought that was going to be his son's last race. "When Wyatt got a broken collarbone, he was saddened for a little while, and I for sure thought that he would end it. Little did I know, he came back stronger than ever and became a state champion."
"Motocross is a vicious, adrenaline pumping motorsport. When I race, I feel nothing, I fear nothing, and I am intensely focused on the track and the other riders positions. To me, motocross is an escape from reality, It's something I can lose myself in for hours at a time without a care in the world."
When Wyatt was four years old, he was introduced to motocross by his mom and grandpa since they have had past experience in racing. "My parents had actually bought a dirt bike for my older brother, but he showed zero interest and I stepped in and took his role."
Besides advice and tips here and there, Wyatt taught himself when it comes to motocross. "I knew the moment I rode a dirtbike for the first time, it was an instant love for the sport."
Wyatt forced himself to give up football and precious time in his childhood in order to pursue motocross. "It was a hard decision because I hold football very close to my heart, but I knew it was the right thing to do. People haven't seen much potential in me for football, so I decided to pursue something even harder and show my doubters that I'm a talented and hard-worker."
Wyatt has traveled hundreds of miles all over the state to pursue his love of motocross. "My favorite locations are tied between Muskegon and Midland." The furthest Wyatt has traveled for motocross is to Alpena, MI.
Wyatt's parents, Josh and Sara, have been his number one supporters since he started motocross. "When Wyatt won the state championship, I was so proud of him. It made me happy because he accomplished this all by himself. It's like watching him grow up. Wyatt has improved immensely since he was young," Josh says.
The number of races that Wyatt competes in varies based on the year. When he won the state championships, he competed in 20 races and came up with a total of 280 points. Wyatt hopes to continue his journey with motocross into his college years and beyond. "You need to work hard for what you want." Wyatt said he believes that's his biggest life lesson from motocross.
COVID-19 has had a very dramatic effect on motocross. "COVID has affected motocross pretty severely. The 2020-2021 motocross season was completely canceled as a result." Wyatt didn't even get to compete this year due to the pandemic; he hopes to be able to resume competing next season.
Wyatt plans on being aggressive enough to win, but he also wants to avoid injuries at all costs. His number one goal is to win a second state championship title, but it will be a lot harder for Wyatt to accomplish this goal considering he's in a different class with a heavier dirt bike that's more powerful and more aggressive. However, Wyatt is up to the challenge and he's not going to give up easily.