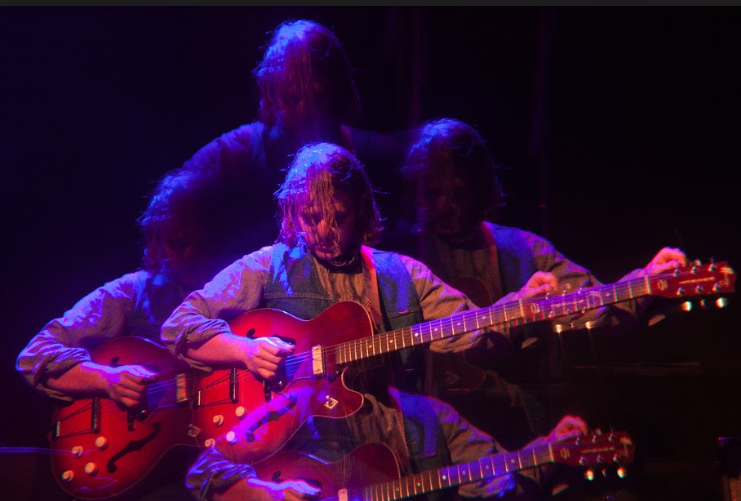 WO alumnus Blake Rhein plugs the cable into his trusty guitar. The bright California sun shines over the crowd waiting for the band to kick off The Santa Barbara Polo & Wine Festival. Dressed for the heat, Rhein pushes back his blonde hair, adjusts his straw hat, and rolls up the sleeves to his button down shirt. The bass pedal starts booming, pushing the beat of the song, as Rhein starts the rhythm. Just a decade before, Rhein was a high schooler, learning how to create music on a desktop computer in his bedroom. 
   In his junior year of high school, Rhein bought a computer that allowed his songwriting career to begin. "I made an album with an artist I met via Myspace. He was based in London, so we just sent tracks back and forth over the internet," Rhein said. "It was a huge learning experience for me in terms of collaborating and songwriting."
   Rhein knew what he should do, but like any high schooler, he needed encouragement. Luckily he had two art teachers, Jan Propst and Nathan Kukla, to encourage him. "I remember having a conversation at school, and I asked him 'What is it that you really love?' and he said 'I really love making music,'" Kukla said. "Then you should study that. Follow what you love."
   Following what he loved, Rhein attended Indiana University (IU) to study audio engineering. In college, Rhein met Aaron Frazer, Kyle Houpt, and Justin Hubler. Together they formed the band Charlie Patton's War.
   While working sound for the IU Soul Revue class, Rhein found the perfect new addition to their band: Durand Jones. "We hit it off right away and started working on a record just for fun," Rhein said. When the album debuted in 2016, the band wasn't expecting much as the album was experimental and simply titled, Durand Jones and the Indications.
   Despite the budget constraints and a basement as the recording studio, the album caught the attention of many retro music lovers. The band established their 70s soul sound with drums, horns, and guitars, adding southern vibes and rock 'n' roll to the sound.
   Their most popular song on Spotify with over 3.5 million listens is "Smile." The song has a brighter sound, but the lyrics tell a deeper story about hiding pain.
   The album allowed the band to perform throughout the US and Europe. "At our first show in Berlin, we got called back on stage for encores until we played every song we knew," Rhein said. Soul music fans couldn't get enough of the new band.
   Due to popular demand, the band released their second album, American Love Call, on March 1. Their new album focuses on bringing back group harmonies, with drummer Frazer often accompanies Jones. The songs are more down tempo, and like their song "Smile," have deeper lyrical meanings.
   The album features their song "Morning in America," which they performed on CBS This Morning on March 9 prior to starting their second tour.
   Now that he performs on global stages, Rhein appreciates everything that led him to where he is. "I used to watch clips of Otis Redding doing 'Try A Little Tenderness' in Europe from 1967 and fantasize about playing a show over there," Rhein said. "The experience has exceeded all of my expectations." Everything that Rhein dreamed of in high school is coming true.
   "We never had any expectation that it would go as far as it has," Rhein said. As a WO student,  Rhein couldn't have imagined where he would end up. All he had was a desktop computer and a passion, but through dedication, he found success, along with a group of friends to share the limelight with.
   Durand Jones and the Indications' music is on Spotify, Apple Music, Amazon, and the iTunes Store. They will also perform on Jimmy Kimmel Live Wednesday, March 27.