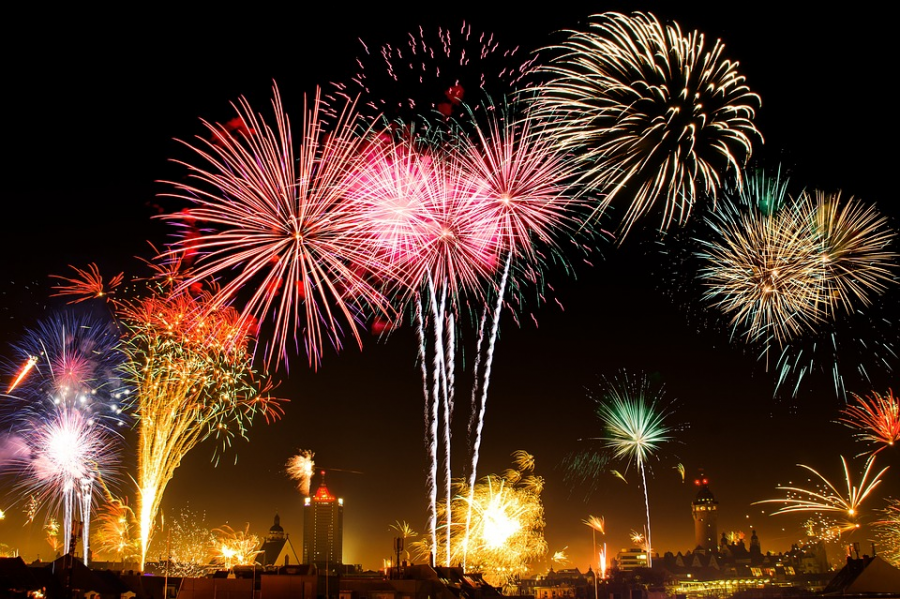 Five, four, three, two, one. After spending the night singing karaoke and playing games, the shining mirror ball finally touches the ground. Confetti flies across the room as everyone shouts "Happy New Year!" The party goes on for another hour filled with special food dishes and card games. As the saying goes, "New year, new me." The new year provokes change, but there are some things that never will: traditions. Many people have traditions for the holidays; I've set out to find unique New Year's traditions at WO.
  Jr. Victoria Prado has many traditions to ensure a prosperous new year. Her family cleans everything to get rid of any bad vibes. They place coins in their shoes for good luck and put a piece of jewelry in champagne for prosperity. She eats 12 grapes to represent 12 wishes for each month of the year. At midnight, they ring a bell for joy and happiness in the new year. This year they set off fireworks to get rid of "evil spirits."
  Soph. Unique Castro and her family go all out on New Year's Eve. Her close family gets together at one of their houses. They buy new outfits and shoes, and sometimes they even get their hair done professionally. They dance, sing karaoke, and play games. They have a feast of ham, turkey, potatoes, and green bean casserole.
  Unlike most people, Soph. Olivia VonHoltz and her family celebrate the new year early, so they can go to sleep without staying up late. This year VonHoltz made a German dinner dish that her mother used to eat as a kid. "Every year we switch between me and my sister's favorite food," VonHoltz said.
  On New Year's Day, Jr. Hannah Prys and her mother go to her grandma's house to make homemade elephant ears and hot chocolate. This year they left early New Year's Day to get to her grandma's house. They make the dough the night before, then roll it, fry it, and cover the elephant ear in sugar on New Year's Day. They make their homemade hot chocolate based on her grandma's recipe with milk, chocolate, and nutmeg.
  Frosh. Amy Maktheva and her cousins do the "Hoya Dance" every new year. The "Hoya Dance" is a dance that they made up based on their close friend's cover of "Hollaback Girl." In his cover, he sang the word "hoya" to the tune of the song instead of singing the actual lyrics. The "Hoya Dance" is a tradition they love.
  It might be a new year full of new opportunities, but these traditions won't change. They will be cherished, remembered, and repeated for years to come.