Holland's best cross-country ski trails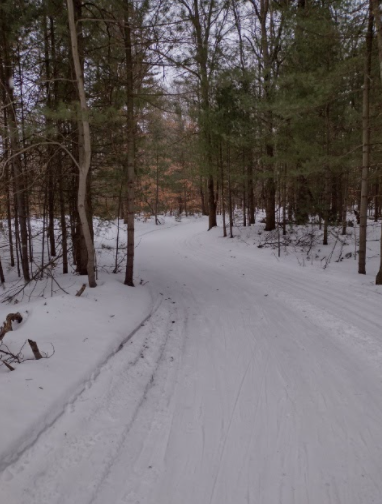 Snow falls. I glide along the trails at Pigeon Creek, enjoying the snow-covered hemlock trees. Even though it's cold, I am getting warm from skiing. Winter is in full swing, so now is the perfect time to enjoy cross-country skiing. Holland has many trails; I reviewed some of the best.
Two area locations offer ski rentals and groomed trails for skate and classic
14/15 Pigeon Creek: Pigeon Creek is in West Olive. I have been skiing at Pigeon Creek my whole life, so I have skied on most of the trails. I appreciate that Pigeon Creek is groomed for both skate and classic skiing. On busy Saturday afternoons, an abundance of skiers enjoy the trails at Pigeon Creek, so expect to wait in line for ski rentals. 
Level: Beginner to moderate
Skiers will have to navigate occasional hills. A three-level signage system denotes the difficulty of each trail.
5/5 Amenities: Lodge, skate and classic ski rentals, snowshoe rentals, concessions, sledding, ski lessons (skate and classic), 5k of lit trails
4/5 Trails/scenery: Pigeon Creek has an extensive network of over 15 km of trails. Trails pass through snow-covered forests. The park has trails on the north and south sides of the road, but most skiers explore the south side trails. Most of the north side trails have no hills. 
5/5 Snow Conditions: The park is closed to hiking, biking, and dogs during winter operations. The exclusive use of the trails for skiing keeps them in tremendous condition. Trails are groomed for both skate and classic skiing. The park also has loops for classic skiing only. The park's website has a webcam and trail reports.
Popularity: Pigeon Creek is the most popular cross-country skiing location in the area because of its amenities, ability levels, and convenience. 
13.5/15 Muskegon Luge Adventure Sports Complex: I enjoyed skiing at Muskegon Sports Complex because the trails were a change of scenery. However, the classic tracks looked washed out.
Level: Beginner to moderate
I had many loops to choose from. Beginners will encounter flat terrain on the shortest trails, but skiers will encounter varied terrain on the longer trails.
5/5 Amenities: Ski rental (skate and classic), luge, snowshoeing, ice skating, lodge, lighted trails (5, 4, 2.5k loops), adaptive skiing. A trail pass costs $10.
4/5 Trails/Scenery: Trails travel around Muskegon State Park's forests and dunes. The park has over 15k of trails. 
4.5/5 Snow Conditions: Trails are groomed for both skate and classic skiing. Ski trails are closed for hiking, leading to great conditions. The park's website has a frequently updated trail report.
Popularity: Muskegon Luge Adventure Sports Complex is a destination to try a variety of winter sports, so skiers enjoy less busy trails, even when the park is busy.
Skiers who own cross-country skis should consider exploring these trails for classic skiing
10/15 Saugatuck Dunes: I had fun skiing at Saugatuck Dunes and going down the fast, technical downhills. It was difficult to climb the hills, but the downhills made the climb worth the effort. I enjoyed skiing past Lake Michigan and skiing through powder in the dunes. However, the trails could be dangerous for inexperienced skiers.
Level: Expert
Trails traverse steep dunes. Going up the hills, I had to herringbone frequently; going down, I reached high speeds. Downhills have curves, which requires skiers to carve to stay on the trail. 
⅖ Amenities: Outhouse
5/5  Trails/scenery: The trails at Saugatuck Dunes traverse the large dunes bordering Lake Michigan. Trails lead skiers through the backdune forest to beautiful views of frozen Lake Michigan. Saugatuck Dunes is a beautiful park at any time of the year. Skiers can choose from a few loops; however, the lack of signage makes it easy to get lost.
 3/5 Snow conditions: Trails are not groomed, and are open to hikers. On the main trails, hikers and sledders pack down the snow. On the less used trails, I encountered occasional ski tracks. Skiers may have to break in the trail.
Popularity: Many hikers and some skiers use the park.
10/15 Riley Trails: I hop in my car, and 5 minutes later, I'm clipping on my skis at the trailhead of Riley Trails. The park is located off of Riley Street between 160th and 168th. The mountain bike loop is rolled, so I glide along the trail smoothly. 
Level: Moderate
Trails travel through the woods of Riley Trails. Trails pass over a few hills.
⅖ Amenities: Outhouse
⅘ Trails/scenery: Trails pass through the woods of Riley Trails and travel around the former landfill. 
4/5 Snow Conditions: Hikers, bikers, and skiers use the trails. Trails aren't groomed, but the mountain bike trail is rolled for fat tire bikes, providing packed snow and good ski conditions. After a recent snowfall, skiers might have to break the trail.
Popularity: Riley Trails' convenient location makes the park popular all winter long.
8/15 Hemlock Crossing: Hemlock Crossing is located off of US-31 in West Olive. I enjoyed skiing along the Pigeon River. I ended up doubling back on the same trail I started on. I had to use caution navigating some cement paths, bridges, and stairs.
Level: Beginner
Hemlock Crossing has a few hills. Trails have signs at each intersection denoting trail difficulty.
3/5 Amenities: Nature center, snowshoe rentals
⅗ Trails/Scenery: Multiple loops bring outdoor enthusiasts past the Pigeon River, around a meadow, and through forests. Skiers should avoid the two paved loops and bridges when snow is thin.
⅖ Snow Conditions: The trails are not groomed; skiers, snowshoers, and hikers share the trails. Walkers and snowshoers create an uneven snow surface.
Popularity: Hemlock Crossing is most popular for snowshoeing or hiking.