Raising money from the heart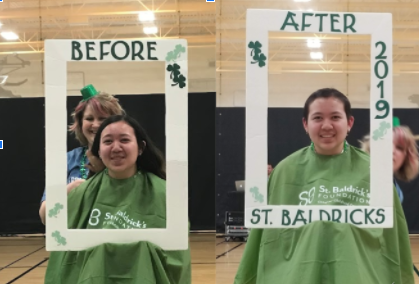 I thought he was getting better. Christmas was so much fun that year. He seemed so active and happy, like he was getting healthier, like maybe he was beating his cancer. Three days after Christmas, my dad passed away. His condition turned suddenly, it seemed to me, and then he was gone.
  It's been almost five years since I lost my dad to cancer. The pain I went through when he died will always be the worst thing that has happened to me. I often think about the four years of pain prior to his passing where all he did was fight to the best of his ability.
   I watched him lose weight while his hair disappeared. I watched his skin flake and shed from his body, leaving raw skin. I watched him cry from the pain. I watched him suffer until he died.
   I hate what I saw happen to my dad. I learned what cancer was when I was seven years old. I had to understand what chemotherapy was and what a tumor was. I had to learn that the bulge in my dad's chest was a port for his chemotherapy. Learning to sanitize every time I touched something was difficult at first. I had to learn to keep my distance from him; no more hugs and kisses.
   I felt the isolation from this side of his cancer journey. But for him? He couldn't have the same life as me or my family. He couldn't hold his family close to him the way my mom could hold us.
   I was eleven when he passed away. Before he passed, I thought about him and his cancer every day. After he passed, I thought about him every day, but I didn't think about his cancer. Instead, I thought about everyone else who still lives with cancer.
   With those lives in mind, I chose to participate in the efforts for saving lives from cancer. Two and a half years ago, I shaved my head through an organization known as St. Baldrick's that raises money for pediatric cancer research primarily by shaving heads as well as other forms of fundraising.
   St. Baldrick's hosts several events throughout the year, but their most successful and widely-known event is their head-shaving event.
   Jacie Denton and her husband, close family friends, introduced me to St. Baldrick's annual event when I was a kid. They started helping out at St. Baldrick's events in 2015. Denton has helped organize and promote the event for the last six years. Denton's husband has shaved his head five times with St. Baldrick's.
   "After researching the St. Baldrick's Foundation and seeing the potential of what we could do to help our local Helen Devos Children's Hospital team of researchers with granted funds for research was very encouraging. Now, six years later, looking back at all that our local organizers have done and how much funds and awareness we've brought to West Michigan, knowing that we've helped raise over $750,000 in a short amount of time is awesome," 
   "To us, the event means that every year we get to donate a generous grant to Helen Devos Children's Hospital and little by little, we can get closer to an end of childhood cancer. It just feels good to give back and see people's stories of what they've gone through. It's a very emotionally moving thing and also a fun event to attend," Denton said.
   "Watching what it's become is something that's so much more than just shaving heads. It's been a gathering ground for people going through the same thing and a beautiful outlet for us to say, 'let's do something about it' and help fight the disease. It's all been something that we can be very proud of," Denton said.
   I am extremely grateful that the Denton's introduced me to St. Baldrick's. If I hadn't shaved my head with St. Baldrick's, I know I would have struggled more to cope and grieve after my dad passed.
   When I attended the St. Baldrick's event as a kid, I watched the participants shave their heads, grateful that there were people out there giving up their hair for the benefit of others.
   Shavees sign up to shave their heads and create a web page on the St. Baldrick's website. Participants set their goal for how much money they want to raise and try to raise that much money before the head shaving begins.
   When I was raising money, I didn't think I'd even reach $500, so I set my goal to $500 in hopes I could come close. Within two days, I reached over $600. I didn't expect people to donate so quickly and generously.
   I raised my goal to $1,000. Not long after I set my new goal I reached over $1,000. My final goal before I shaved my head was $1,500, which I exceeded by over $700.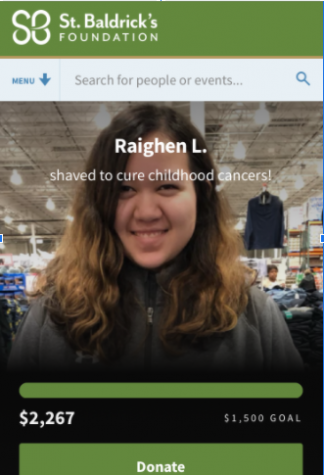 Fundraising was intimidating at first. I figured most people would reject my cards that gave a link to my donation page. I went from door to door in neighborhoods asking for donations. I even stuck flyers underneath the wiper blades of every car parked for a little league game. I told everyone I knew and posted the donation page on social media.
   Fundraising was the most intimidating part of participating in the head shaving event. I was worried that people wouldn't want to donate, but they did. 
   If donating online, there's the option to donate to memorialize someone as well. I know a lot of people who have lost someone to cancer. St. Baldrick's pushes to save young lives while giving donors the chance to commemorate those that weren't saved. The option to donate in memory of a lost loved one is a major contributor to the donations St. Baldrick's receives.
   Every time someone approached me about their donation, they were grateful to be able to donate in honor of someone. St. Baldrick's is about saving the lives of present and future children diagnosed with cancer while also commemorating the lives of everyone who died from cancer.
   While fundraising, participants also broadcast the event date and location to bring a crowd to the actual shaving event where all participants get their head shaved.
   The event raises awareness while funding cancer research and collecting hair donations.
   While most participants shave their heads at an event together, lined up in a row, my head shaving event was moved to my school, Macatawa Bay Middle School, where I sat in a lonely barber chair in the center of our gymnasium.
   The week that I shaved my head was the same week my school had been doing cancer awareness week, so there would already have been an assembly. The assembly ended with a razor attacking my head in the gymnasium in front of my peers.
  To shave in front of everyone I knew wasn't my first choice, but I'm glad I did. Before I shaved my head, I had raised $1,800. After I shaved my head, just a few hours after, I checked my page on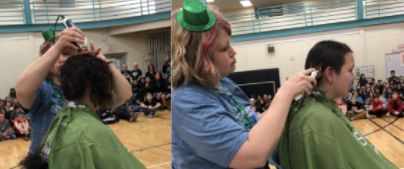 St. Baldricks. I jumped from $1,800 to $2,267.
   If I hadn't shaved my head at my school, I don't think my peers would see that cancer does affect nearly everyone. I realized a lot of people I went to middle school with felt alone with the effect that cancer had on their lives. 
   It doesn't require having cancer for the topic to be a source of pain.
   For a lot of my peers, they recognized cancer as the attacker that took their grandparents. For other people, they knew survivors, but they still live with fear of the cancer's return. Only a few people lost an immediate family member as I had. Doing the event at my middle school gave my peers a chance to feel less alone.
   After I shaved my head, I looked at those hundreds of students' faces and saw some cheering, some crying, and some running at me to give me a hug.
   The day I shaved my head I received texts from people I went to school thanking me for bringing the conversation of cancer to the student body.
   The actions we take to conquer pediatric cancer and raise awareness for cancer matter to people and motivate people to make changes themselves. Not only did I raise money and donate my hair, I did something that mattered to people out there who have been affected by cancer.
   Shaving through St. Baldrick's doesn't take much other than a goal for change and motivation to enforce change.
   Anyone can participate. The plus sides to participating in the head-shaving event include countless benefits: saving the lives of kids while having fun at the event, raising awareness for pediatric cancer, and getting a free haircut!
  The reason why people, like myself, choose to shave their heads is because we are fortunate enough to have hair that grows, hair that isn't killed by live-saving therapy.
  Participating in St. Baldrick's events doesn't require shaving either. With the right qualifications, people can sign up to shave heads. People can also sign up to create and host an event. Everyone can and should donate. Joining the St. Baldrick's events and donating towards more funding for childhood cancer research is an easy and exhilarating way to participate.
   Michele and Patrick Schrager have dedicated years of service to the St. Baldrick's Foundation. The Schrager's helped the foundation in their previous place of residence, but when they moved to Michigan, there weren't any St. Baldrick's events, so they brought a St. Baldrick's event to West Michigan. 
   Patrick Schrager has shaved his head with St. Baldrick's for the last thirteen years. The Schrager's have numerous close friends who participate in the St. Baldrick's events and continue to support the push towards saving kids from childhood cancer.
   A lot of the money fundraised goes to Helen Devos, keeping the fundraising close. It's important to them that a lot of money stay close to help out locally and intrastate.
   Michele Schrager and her husband Patrick knew a child with cancer. When cancer comes close to home as it did for them, there's a desire to want to do something, and they did.
   "He [Patrick] started it because one of my friend's daughters had cancer at five. So I kinda had an at-home — you know — you knew somebody. We were blessed. None of our children were sick, so that was always a good thing, but Patrick always wanted to give back," Michele Schrager said.
   Their friend's daughter is now twenty-five. "Twenty years since she was diagnosed and I think nineteen years cancer free," Michele said.
   Her life is a testament to how much efforts towards beating childhood cancer really mean and the difference that foundations like St. Baldrick's make. The strides that have been made and will continue to be made in pediatric cancer research are because of organizations such as St. Baldrick's.
   There's no guarantee that every child's life will be able to be saved, but the more support gathered over the years has helped make a substantial impact. It's possible for these children to survive cancer because of foundations like St. Baldrick's that are supported by caring communities.
   One member of this caring community is Alicia Scobey. Scobey started volunteering for St. Baldrick's nine years ago, starting as a barber shaving heads at the events. Like the Schrager's, Scobey also got involved in St. Baldrick's because of that same five-year-old girl who's now living into her twenties.
   "Through Saint Baldrick's, the money raised is used to fund childhood cancer research.  Without this research, many kids would not make it through cancer. When I was asked by Pat and Michele, I couldn't say no.  After the first year, I became the Head Barber so I helped align all the other barbers and book the shavees," Scobey said.
   "We have so much fun at the event with raffles and silent auctions.  Every year we have special guests, who happen to be children going through cancer, or ones who are in remission. The parents speak and the room is full of tears.  It is so touching and makes me know I'm in the right place. Then we hand over the clippers to these kids, who usually shave a family member's head. There is a DJ trying to raise more money, and it's just flowing in for these brave little kids.  They have been through so much, and to see them have a little fun shaving someone makes my heart so happy," Scobey said.
   Scobey's husband has helped at St. Baldrick's events for five years and has shaved his head once. Scobey calls the event a "family affair" because of all the families that join in the St. Baldrick's events like hers.
    "To know I can help make a difference by raising money for such a great organization warms my soul," Scobey said.
   Scobey's dedication to the St. Baldrick's events is greatly appreciated. Nine years helping St. Baldrick's has placed her as an important part in the events that are seeking to put an end to childhood cancers.
   For Scobey and the Schragers, they contributed so much because of a young girl that all of them knew. They, as well as many others, have been able to make a difference for her as well as many other children.
   I shaved my head because I lost my dad. The thought of cancer will always cross my mind. I know the effect that cancer has had on my life will persist perpetually.
   I lost my dad, but my dad lost me too.
   To me, the idea of losing a parent to cancer is and was scary, and the idea of losing a child to cancer scares me more.
    I thought my dad was young when he passed away at forty-one, but there will always be younger lives that share these battles with adults. Cancer can affect everyone of all ages.
   There are children living with cancer. They deserve our time and dedication to save their lives because they deserve better. Most children have opportunities because of their health. But when the health of these children isn't their choice, they deserve the chance for the same opportunities as others.
   Thanks to St. Baldrick's and people like Michele and Patrick Schrager, Jacie Denton and her husband Mark, and Alicia Scobey, as well as countless others, funding childhood cancer research is made possible, giving opportunities to these children.
   The best way to continue to help these kids is to fight with them. Give back. Donate. Raise awareness. Do what YOU can to save lives.